ErosionZero is a company that since its inception regards business ethics as its main asset.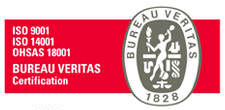 Our company is formed by a group of people interacting with society in order to know its needs and expectations to ensure its sustainability.
Thus, our commitment with our customers through an ISO 9001:2008 quality management system has been certified since 2001. Since 2005, the same commitment is being performed through an ISO 14.001: 2004 environmental management system, and since 2011 through the safety and workers' health system based on OHSAS 18.001:2007.
On its way towards sustainability, ErosionZero has won some awards:
The XIII Andalusia Environment Award was granted in 2008 to its straw organic blanket in the category of product respectful with the environment. The manufacture of this product, which is a model of sustainable development project that can be exported to anywhere in the world, uses a forest resource in favor of the natural environment itself.
Environment Award granted by "Fundación Caja Rural" in 2009 to a sustainable development project when the company presented resource recovery in environmental improvement as an evidence showing that sustainable development in rural environments as Campotéjar is always feasible and exportable.
New objectives and targets within our Integrated Management System are permanent: "EFFICIENCY AGAINST EROSION". This is evidenced through our commitment by joining the AECS (Andalusia Emission Compensation System), which is an initiative of the Ministry of the Environment of Andalusia.